My wing ready to be picked up in Shinagawa, Tokyo after crossing the Pacific Ocean.
"How are we going to ship our Wing?" was the first thing came to my mind when I was informed by my employer that I was going to be transferred back to Japan.
I called Nippon Express in Mexico City to see whether they could ship my Wing to Japan. They could not guarantee the safety of my Wing if they shipped it from Mexico and recommended that I ship it from Los Angeles, California if I could deliver my Wing there. OK. No problem! Amy and I decided to ride our Wing from Queretaro, Mexico to Los Angeles, CA via Laredo, TX, San Antonio, TX, El Paso, TX, and Phoenix AZ. As soon as we mentioned our upcoming trip on WOTI, a couple of people offered to have us stay at their homes. We decided to stay with George Mandry, Jr. in San Antonio, Texas and Graham and Peggy Muns in El Paso, Texas. We were surprised they offered their places to people they've never met before.
November 20, 1996
We woke up around 4:45 am. Just couldn't get up at 4:00 am as we had planned. Had quick bowls of cereal. Loaded up the bike, but couldn't find space for the camcorder. Decided to carry it on me! We left our house and swung by the gas station in our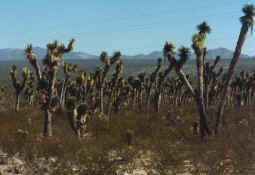 neighborhood to add some air to the tires. Finally, we were off at 5:50 am. Final destination for the day, San Antonio. Fifteen minutes later, Amy told me to pull over. She was feeling awfully cold. It was 40 degrees F. She put on a rain suit over what she already had on. After that, she was still cold, but told me it was manageable. I was fine except for my hands. They were starting to lose feeling, but they were fine after the sun came out at about 7:00 am. From Queretaro to San Luis Potosi, road conditions were OK. From San Luis Potosi, we were on a toll way for a while, which is close to us standards of Interstates. It didn't last long. Then the road from hell welcomed us. Between San Luis Potosi and Matehuala, the freeway is not divided. There were lots of semis, and on top of that, the road surface was incredibly bumpy and had many large potholes. I guarantee if you had hit one of those, your tire and rim would have been gone for good. This road seemed to last forever (9 hours).
Somewhere in the middle of cacti, we stop for gas. Amy had a little pastry and I had a small bag of roasted peanuts for lunch. We
figured they wouldn't make us sick. In Matehuala, there was a military check point. A soldier asked us where we were going. I had to open the saddlebags and the trunk so that he could inspect what we had. He wasn't really serious about searching for suspicious materials. After that, we were back on the road from hell again. Soon, we encountered a traffic jam in the middle of a cacti dessert. Accident? No, they were doing road construction. Why? They were adding lanes. In Mexico, often, newly-resurfaced roads aren't any better than what they were to start. Why bother? Taking advantage of being on a motorcycle, we passed everybody who'd been waiting. Then, for the next 1/3 mile, only one lane was open. The flaggers on each end didn't know how to communicate with each other. They had no walky-talkies, not even a reliable flag signal. So, we waited for 15 minutes for our turn. Viva Mexico!! As I went through this construction site, I noticed that asphalt rocks were flying up from the tire and hitting the windshield. I immediately slowed down, but I wonder how this could happen (considering the fender, mud flap, and the angle).
We kept going and going. Although the rear air shock had 55 psi, the bike kept bottoming out quite frequently. It was torture for my Wing (physically) and myself (mentally). I kept telling Amy how frustrated I was with this terrible road, and she would give me shoulder and neck massages to relieve some of my stress. Finally arrived in Saltillo at about 4:00 pm. From here on, the road to Laredo was not too bad. It was quite straight and smooth and was a divided toll way.
We were going 85 to 90 mph. There was absolutely no traffic. We were both quite pumped up about entering the States. In Nuevo Laredo, the border town across from Texas, we had to stop by the "Aduana" (customs) office. Since I was taking my bike out of Mexico for good, I had to have my permit canceled. If you leave the country without canceling your permit, customs officials will think that you sold your vehicle in Mexico, and will charge you an import duty for the motorcycle on your credit card. Well, the cancellation went quite smoothly. It took about 20 minutes. They needed the permit sticker back for the cancellation. The sticker was on the windshield (they pasted the sticker there when I brought my Wing into Mexico back in March). This lady came out with a razor blade, and almost used it to scrape off the sticker from the windshield. I stopped her right before the razor touched the windshield. I had to explain to her that the windshield was not made of glass, and would be damaged with a razor. I peeled the sticker off with my nails. Finally, we crossed the border and were on the U.S. side. We had no real trouble with U.S. immigration and customs. As soon as we left the border, we looked for insurance agents to get a short term policy for my Wing. It was already close to 7:00 pm, and they were all closed. We went ahead and went to San Antonio. We figured we could get an insurance policy in there. To make the story short, we ended up riding to Los Angeles without any insurance coverage... Anyway, believe it or not, even after such a long ride, we really enjoyed the time between Laredo and San Antonio. We just couldn't believe how smooth the roads were after getting used to the roads in Mexico. I-35 felt as smooth as silk. We felt there was so much more order on the road. More respect. We felt relieved.
Once we were in San Antonio, we got off the Interstate, pulled into a Chevron station, and called Pappy George. It was the first time to hear his voice. We had been communicating through e-mail up until then. He informed me that he'd meet us at the gas station in about 40 minutes. He told me to leave my CB on channel 1. In the meantime, I decided to get gas for my Wing. He had worked long and hard today. As I pulled up to the pump, something unbelievable happened. I leaned the bike to the left to rest the bike on the side stand. Hmmm??x!???!!! I heard plastic crunching. What happened? I did not put down the side stand, and the bike was resting against one of the protection bars for the pump. To be exact, the left rear speaker's outer case was resting against a concrete bar. Luckily, no damage was done. I couldn't believe it. It's ironic, because when I read the "101 ways to drop your bike" that somebody posted, which included, "parking your bike without putting down the side stand at gas stations," I said to myself, "Whoever does this must be really dumb!"
After filling up the tank, I heard George on the CB. He was at the gas station across the street. In fact, I could see him coming on his
blue Aspencade with "Rings of Fire". As he approached, I noticed Pappy wearing his open faced helmet headset, with a cigarette in his mouth. "Wow!! This is George!!" We introduced ourselves, and got started talking Wing things, what else? He showed Amy the Diamond Seat and Kuryakyn passenger highway pegs. Amy sat on the passenger seat and immediately liked both. We left the gas station and went to a BBQ place. It was already closing time, but after George told them that we had come all the way from the middle of Mexico, we were seated. The first of many pleasant Southern hospitality we received during our stay in Texas. We briefly talked about the day, ate dinner, then headed to George's house. Keep in mind, George and his family had just moved into their house the previous day. Amy and I really appreciated his willingness to host us just after his family moved to their new home. We went to bed as George reported our arrival to the list.
Total distance for the day: exactly 700 miles.
November 21, 1996
George took me to a Gold Wing accessory shop in town. You should have seen me when I was there. My small eyes were WIDE OPEN drooling at all the goodies hanging on the wall. It was the very first time I had been in a shop with so many GW accessories. We went back to George's, and we both rode our Wings to Cycle Works for the installation of the items I mentioned earlier and a maintenance job. The shop owner's name was Ray Byrd, and he rides a GW himself. I left my Wing there for the work, and George gave me a ride back to his house on his blue Wing. It was the very first time for me to be a passenger on a Wing. Even though I knew George was a very competent rider, I was very uncomfortable mainly because I couldn't see the front. The view was simply blocked off by George. It was not because George was abnormally tall and big as a Winger, but because of the general riding posture of a GW. When I was in high school, I often rode on the back of a crotch rocket as a passenger, but with that kind of MC, the driver sits leaning forward, so you get to see the front view. Anyway, the experience really made me think of how Amy feels when she's riding on the back seat.
Later, George and I went back to the shop to pick up my Wing. Ray, the shop owner, told us that my Wing was in perfect condition despite the abuse from Mexican roads. I told him earlier that I started hearing clicking noises when the rear swing arm moves when going over a bump, but he couldn't find any problems (The noise became louder and louder once I started riding in Japan. It turned out to be a rough surface on the inside of a metal sleeve at the bottom of the left rear shock. According to the local GW shop here, they have had several 1500s with this problem. Smoothing out the surface takes care of the problem. I thought the swingarm bearing failed!). Anyway, the Wing was equipped with front Progressives, Superbrace fork brace, and the Elite II that I read about so many times on the WOTI. Could I tell the difference in the ride and handling? YES!! Now my Wing handles like a completely different bike. When inputting your handle bar, it doesn't feel mushy. Feels rock solid. The bike simply turns and handles better. The ride did not became harsh like some folks said. I must have been lucky that the front forks also did not make any noise when compressed. As you know, some people have that with Progressives. However, I couldn't tell what did what since I had all three installed at the same time.
Then, George and I picked up Amy from the mall and went back to the accessory shop again. It was time for my Wing to have a Tulsa shield and many other SAFETY items installed. About the Tulsa shield, I have to agree with many on the list that it gives you a quiet ride, better handling, and probably better mileage, but Amy couldn't tell much difference as a passenger. Tulsa came up with an even taller shield recently. Maybe the passenger can have improved wind protection with it. George, his riding buddies, and I went for a ride around San Antonio. As I was riding with these folks, I was feeling the Gold Wingerhood. I'm Japanese, living in Mexico (at the time), meeting for the first time, but riding together like we've known each other for some time. This is what makes Gold Winging so special.
November 22, 1996
Amy and I we were planning to leave San Antonio the next day. Our Wing had to be delivered to Nippon Express's office in Torrance, CA before Thanksgiving. We wanted to get there a day or two early just to make sure. The weather guy was forecasting a cold spell from Canada in the Southwest. So, George, John Henry, his riding buddy, Amy, and I went down to Academy (outdoor/hunting store). Since we never needed winter riding cloths in Mexico, we needed to get something to keep us warm tomorrow. George suggested we get a bunch of long johns and hunting suits. So, we did.
November 23, 1996
The temperature in San Antonio was in the low 40's that morning and it was continuing to drop. George didn't think it was a good idea to leave that day, but we insisted we would. George, and John Henry escorted us out of town on I10 West. As we were heading out of town, we noticed that 18-wheelers going eastbound had lots of snow in the tire wells and on the roof!! George immediately got on his CB and asked the truck drivers about the road condition ahead of us. We were told there was lots of snow out West, and cars had been seen in the ditches. Not good! So, we decided to return to San Antonio.
November 24, 1996
Even though we wanted to leave, we were still stuck in San Antonio. I vaguely recall that West of the Texas Hill Country received a foot of snow in the last two days. George was so kind to accommodate us for our extended stay.
November 25, 1996
Amy and I finally said good-bye to George and left San Antonio. We headed toward El Paso on I10 West. The temperature was in the low 40's, but the sun was out. We had long johns, sweats, leather jacket, jeans, hunting suits, and rain suit on top to break the wind. They kept us somewhat warm, but resulted in diminished blood circulation, especially the legs. Near Kerrville, we started to see lots of snow on the road side, shoulder, and the middle of each lane. Most of the snow was getting slushy on the road. I just kept my Wing in the tire tracks cages left. It still was nerve racking to ride between mounds of snow at 75 mph. We were monitoring channel 19 on the CB and a truck driver said, "Look at that motorcycle!! They are crazy!!" Once, we hit a shaded area and the pavement was frozen. I said to myself, "Oh, sh**!' Seemed like a long time, but it must have been about 2 seconds or so. I could feel the Wing slightly starting to slide. I kept everything steady and we were off the ice. Later, I told Amy what happened. She didn't even know what happened. Sometime after leaving the Hill Country, there was no snow on the ground.
Later in the afternoon, we arrived in El Paso, Texas. We met Graham Munsell (Muns), a WOTI member, at a Texaco gas station. He showed up on a clean black GL1500. He led us to his house. Peggy, his wife, served us a very nice meal. After riding all day in cold weather, it felt so good to be in a warm house. After dinner, we talked for a while, then it was time for bed, wrong! I decided to clean our Wing. Thanks to Muns, I was able to clean my Wing in his garage. By the way, riding on a highway with partially-melting snow was the first time for the Wing to get wet. In Mexico, when we rode, we never encountered rain!! Besides, I wanted to deliver my Wing clean to the shipping company since the Wing had to be crated and would be in a container for quite some time while crossing the Pacific Ocean. I stayed up late to clean the Wing.
Total distance for the day: 552 miles
November 26, 1996
We left Muns and Peggy's at about 10:30 a.m. We wanted to leave early, but it was just too cold since we were not property equipped for a cold weather riding. We said good-bye to Muns and
headed toward Phoenix, Arizona. Final destination for the day, Los Angeles, California. After leaving El Paso, we kept on riding and riding on I10. Somewhere near Tucson, Arizona, we had lunch with Rodney Davis, another WOTI member. We had a quick lunch at McDonald's. It was a nice feeling to know that someone would care to ride out to meet somebody he'd never met. We had to say good-bye quickly since we still had a long ways to go. Phoenix was a mess!! I10 had a lot of road construction, but the worst was after passing Phoenix. Somewhere between Arizona and California. I have to admit, I almost fell asleep a couple times. A long stretch of road with nothing to look at...
Finally, we were in California, approaching Los Angeles. The Wing was incredible. We were being tossed around almost by a lane on either side from strong wind. We saw signs and things flying around. There was some kind of wind advisory on the radio. It
was bad! Our destination was Orange County. We somehow got lost and ended up in downtown Los Angeles. Guess what? It was 2:00 a.m.!! Not a good time to get lost in downtown LA! We somehow managed to escape downtown and got to Orange County and checked into a Motel 6 as we had planned. It was kind of crazy that we had to ride till past 2:00 a.m. that day. Well, we had to do it, because I had made an appointment with the Orange County Honda next morning for an oil change and to remove theCB radio (I was informed by the shipping company that CB radio had to be taken off when shipping a bike to Japan), and our Wing had to be delivered to Nippon Express that afternoon.
Total distance for the day: 805 miles
November 27, 1996
I left Amy at Motel 6 and took my Wing to Orange County Honda first thing in the morning. According to my instructions, they changed the oil and filter, and removed the CB radio from my Wing. A CB radio is illegal in Japan, and I was advised to have it removed before shipping the bike. After all that was done, I rode back to the motel. We checked out and headed out to Nippon Express in Torrance, California. If you remember, Honda of America's headquarters office is there. As we approached the area, we saw many buildings that belong to Japanese companies. We finally arrived at the office of Nippon Express in Torrance. I submitted some paperwork, and we were ready to go. It was very difficult to leave our Wing there. That was my first time to ship our Wing overseas. I was worried, but we had to leave our Wing. We had a plane to catch. We took a cab to the LA Aiport and flew back to Mexico with our helmets. A side note. We ended up riding to Los Angeles without any insurance in the U.S. Good thing nothing happened!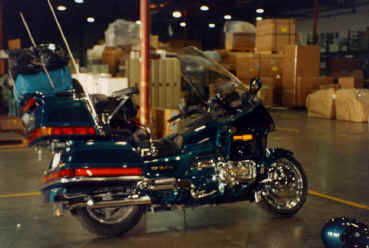 Our Wing at Nippon Express's warehouse. It was hard to say good-bye to our Wing!
Reuniting with Our Wing!
Over two and a half months had passed before I was able to pick up our Wing in Japan. Our Wing actually arrived in Tokyo Bay from Los Angeles in less than a month. However, we did not go back to Japan until January 2nd. We lived in a hotel room for a month, so consequently did not have an address. We could not process custom clearance for our Wing without an address. Well, we finally found a house we liked at the end of January 1997, and we immediately applied for the custom clearance. In no time, our Wing cleared customs.
I took a day off from work and went to the local Hachioji City Hall to get a temporally permit so I could ride the Wing from Shinagawa, Tokyo port to Hachioji without a license plate. It took about an hour and a half by train to get to the warehouse of Nippon Express. I was so excited and nervous to reunite with our Wing. "Was he crated properly?" "Any damages?" When I arrived at the warehouse, I had to take care of some paperwork and was off to meet the Wing. The Wing was sitting in a wooden frame with a plastic tarp over it. Took a couple of minutes for two workers to uncrate the Wing. They did a great job! I mean there was absolutely no scratch whatsoever. The Wing was back to me just as it was before crossing the Pacific Ocean. Amazing! 1,152.24 USD for the shipping was well worth it! After the Wing was uncrated, I took the side cover off and reconnected the negative side battery terminal. I disconnected the battery terminal when I delivered the Wing in Los Angeles, hoping to prolong the battery life. However, since two and a half months had passed, I was positive that the battery would be dead. Guess what? When I turned the ignition and hit the start button, the stator cranked the motor just as if I had ridden the Wing the previous day. I kept cranking the motor for a while and I stopped. I hit the start button again for a while. Cranking good, but no fire. After repeating the same process, I glanced at the kill switch. Duhhhh! The kill switch was in the off position. I flipped it to "on" and the Wing immediately came to life. I brought jumper cables just in case, but
the battery was still good after two and a half months! On the way home on my Wing, I was a bit nervous since it had been about 2 years since I last drove in Japan, and it had been 8 years since I rode a motorcycle in Japan. Well, no problem getting home. When we were looking for our house to rent, one of the requirements was a house with a garage. In Japan, it is unusual for a house to have an enclosed garage. We were able to find one, but it was difficult. Before I picked up the Wing, one concern was whether the windshield would clear the garage entrance. I swear there was only about half an inch clearance as you can figure from the picture. Also, please notice the Wing is standing is the shoulder of the street. Space is precious in Tokyo!
Registering The Wing in Japan
I had to take another day off from work to get a license plate for our Wing. In order to get a plate, you would have to pass a vehicle inspection and pay some bucks. Registration fee, tax, and inspection was about 90 USD. Mandatory liability insurance was about 300 bucks. The safety inspection is quite simple and straight forward... Well, I didn't pass! First thing the inspector noticed was that the saddlebag tail/brake lights were lit. According to the Japanese law, there should be no red lights outside of amber turning signals (Japanese version of GWs do not have those lights). So, I could not proceed any further. I rode home, took the light bulbs out of those saddlebag tail lights and headed back out to the inspection station. This time, I passed the visual inspection and went on to the breaking test. It's like the dyno testing. Your rear tire would be on rollers and they start rotating. You are told to apply the rear break at certain points. I passed. Then, I was on to headlight aiming inspection. You creep up to a line, and flip the headlight between high beam and low beam. There is a device to measure the height and width of the light release from the headlight assembly about 50 ft in front of you. I failed! I was told my high beam was too high. I got real nervous. They gave me a 2nd chance. I turned the headlight aim adjusting knob, but counter clock wise instead of clock wise. It just seemed natural that left would be low and right would be high! I rarely adjusted the headlight angle, so I didn't recall. I failed again! Of course! Turning the adjusting knob to the left would bring the beam even higher! The inspector gave me a 3rd try. This time, I firmly gripped the front break, put the bike in gear, engaged the clutch half-way, and revved up the motor. Why? Because I thought by raising the rear end, I might be able to bring the headlight aim down enough to pass, but it was not enough to compensate for the mistake I made. I had to leave and come back the next day... When I got home, I realized that I had been turning the headlight adjusting knob the wrong way... Next day, the inspection was a breeze. No problem. My Wing was finally registered in Japan!