Near downtown Queretaro, Mexico
Queretaro, Mexico
Prior to living in Mexico, we knew very little about this country. Amy and I lived in the city of Queretaro in the state of Queretaro, Mexico in 1995 and 1996. It is located 600 miles south of Laredo, Texas and 135 miles north of Mexico City. The climate was very consistent throughout the year. Dry and warm. Though they claimed to have a rainy season, it only amounted to a couple of hours of late afternoon rain. No big deal. The city is known for its Spanish colonial architecture and its proximity to famous towns such as San Miguel de Allende and Guanajuato, which are also known for their beautiful colonial architecture. From Queretaro, there are a few well-paved back roads which will take you through some spectacular country sides of Mexico.
Riding in Mexico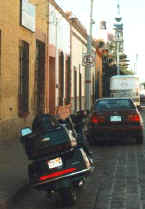 There are basically 4 types of roads in Mexico. Toll-ways, freeways, urban roads, and back roads. Toll-ways are almost like the Interstates in the United States in terms of pavement conditions. Since the speed limit is not really enforced, cars on the fast lane are often going above 100mph. I really liked those roads, but the availability of toll-ways is limited to major city connections. Watch out for slick oil at toll-booths. They are REALLY bad! Freeways are normally QUITE bumpy and filled with dangerous road hazards; like domestic animals, people crossing the roads, broken-down vehicles on the shoulder, huge potholes, and unmarked construction sights. Urban roads are even worse. On top of the hazards found on freeways, you will encounter many speed bumps. I mean many. They are everywhere. They are sometimes so big that you just cannot avoid dragging the bottom of your Wing. You can imagine how I used to feel every time that happened! Back roads are sometimes pleasant, but most of the time, the conditions are less than decent. So, except for toll-ways which connect major cities, the road conditions in Mexico are less than satisfactory for riding a Gold Wing. In small old towns, you will encounter cobble stone roads. They are roads filled with round rocks about the size of cantaloupe. They are sometimes pretty to look at, but not when you are on your Wing. It's really hard on the suspension, and you can lose control
if you are going slow. Unless you are in a major city, you won't find a motorcycle dealership. So, your bike needs to be in very good condition. In Mexico, receiving a driver's license only requires an eye exam and some dinero (money). No written test of any sort is required. No skills needed. You will find that there is not much order on the roads. People drive very selfishly, and there is no respect for others. It's worse if you are on a motorcycle. They will try to squeeze you out sometimes. However, the bright side is that there are many beautiful places you can visit in Mexico, and generally speaking, the weather is perfect for motorcycling in the central region. But to get to those places, it's often difficult not to include poorly maintained roads. Riding in Mexico can be a great fun if you are riding a large off-road bike, but often stressful on a Wing (although I still enjoyed it). Regardless, I wouldn't recommend touring Mexico alone if you've never been there and don't speak Spanish!!
Traveling in Mexico - Things to Consider
| | |
| --- | --- |
| | Once you go into the heart of Mexico, you will find that most Mexican people are very friendly and polite. It is very important that you try to speak to them in Spanish even if you speak little. It really changes their attitude toward you. |
| | |
| --- | --- |
| | What they say about food and water is very true. Eat only at reputable places to eat and never drink tap water or ice cubes made from tap water. I tried all sorts of street foods, but I was not visiting. Yes, I occasionally had stomach problem from doing so. I'm sure you won't want to spoil your vacation in Mexico by staying in the bathroom the whole time. Worse yet, you could pick up something serious like hepatitis like I did... Amy and I went for a ride with my co-worker. Stopped at a dinky restaurant in a small town called San Juaquin. Spectacular mountain roads with huge cliffs right off the pavement with no guardrails. Anyway, I picked up hepatitis A from whatever I ate there. |
| | I was hospitalized after 2 days (first misdiagnosed as COLD). After being hospitalized, I was diagnosed as having typhoid fever. I was given treatment for that for a day. Then, finally, a correct diagnosis was reached - hepatitis A!. They were ready to take my gall bladder out before correct diagnosis since it was starting to swell! Anyway, this happened in the best international hospital in Queretaro, which is a decent size city. Imagine getting ill in smaller towns or out in the country. You're out of luck. |
| | Keep cash in different places. Maintain a minimum amount of cash in your wallet. Keep the rest somewhere else. Not only do you need to worry about pickpockets or thieves, but also Mexican cops! It is possible that you will get stopped by a cop and get harassed by them. You might need to bribe them to get out of the situation. You might need to give out all the cash in your wallet. So keep a minimum amount in your wallet. This happened to us once. We were driving a rental car in Cancun and were pulled over by cops. Even though we were not speeding, they claimed we were (they didn't even have a radar). When I denied that I was not speeding, then they said I was drunk (which was not true, I had a glass of wine with dinner a couple of hours earlier) and went on to say they would take me to their station and I might spend a night in jail. So, paid them off. The Mexican government and cops are incredibly corrupt... |
| | Keep an eye on your Wing whenever you can. If you must leave it, try to park in a paid parking where you will find an attendant (quite easy to find). Hint to the attendant that you'll pay him if he watches your Wing and makes sure nobody touches it. In Mexico, people WILL touch your Wing, play with different controls, and sit on it unless you tell them not to do so. |
| | Did I scare you off? Hopefully not, but just want to make it clear that you really need to be careful if you decide to travel in Mexico, especially on a motorcycle! If you are determined to do so, good luck! |